Surface Water Attenuation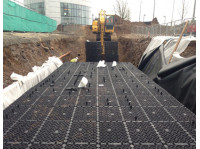 Surface water attenuation systems as their name suggests are essentially rain water holding tanks that collect runoff from hardstanding areas witinh a development and slowly attenuate or discharge this runoff over a defined period into storm drains or water courses. Such systems are designed around the development as a whole and the amount attenuated during a storm event should in theory mimic or not exceed the historical run off pre-development. The systems come in many forms and can often be cast insitu tanks, pre-cast tanks or in recent years modular tank systems have become very popular.
These systems are ideal for rapid build programs, tight sites or projects where LEED compliance or credits are desirable.
DPM provide an installation service as an approved installer of Polypipe WMS. We have built many tanks around the country and while our tank building service is install only, we can supply the geomembranes if required. Additionally, we also carry out destructive testing on membrane joints to ensure compliance with the design.
Please constact us with your specific requirements.