Cavity Drainage Systems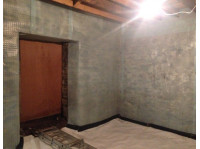 Cavity Drainage Systems consist of moulded high-density polyethylene and polypropylene membranes and fixing/sealing materials used as a water diversion system in the refurbishment or new construction of domestic and commercial buildings. DPM are an experienced cavtiy drainage system contractor and work with leading suppliers to provide bespoke solutions to individual projects. As both a Triton & Sika approved contractor we can provide the complete system including sump pump and channels with manufacturer single point warranties on completion including the excellent Triton TUG guarantee which is only available to proven contractors that have consistently completed complex projects to the eaxacting and very high standards demanded by Triton systems UK.
These systems can be used internally as a remedial system to dewater basements and externally to increase drainage and reduce hydrostatic head bearing against a structure vertically. Product selection is very important and should only be made by your engineer or trained professionals such as DPM.
Please contact us to discuss your requirements