Bund Lining & Fit Outs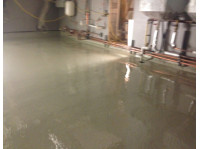 Bund lining, as its name suggests is the practise of lining a particular area in a building to contain or confine unexpected leaks or discharges. There are many different products that can be used, in fact too many to mention here. DPM engage closely with our clients to determine the following:
Risk - what is the risk of an unexpected leak or discharge?
Construction type - what is the building/area constructed of? what are the possibilities of this type of construction failing in the future?
Material - what type of material is likely to be discharged? water, acids, hydrocarbons etc
Latent effects - what are the potential latent effects as a result of a leak? water courses, drains green areas and public green areas
Management - how, when a leak occurs, will it be managed? is the bund large enough to provide adequate time to address the leak?
Please contact us to discuss your particular requirements