Sump Pump Systems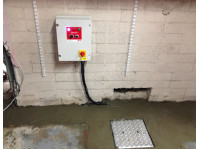 Drained cavity and sump pump systems can be employed to an existing structure below grade that is suffering from water ingress and where traditional means of remdediation are not possible. If external excavation is not possible or if the water ingress is coming from beneath the slab then waterproofing the structure in an attempt to exclude the water can often cause more problems that it solves. Water can migrate to other areas and depending on hydrostatic pressure can cause structural demage to the building and its foundations. As is often the case in life, the simplest solution is usually the most effective. Drained cavity systems collect water that migrates into the building and diverts it to a modular sump chamber, within this sump (depending on specification selected) chamber there is a float activated pump. When the water reaches a pre-determined level the pump activates and removes the water via a series of discharge pipes to the external storm drain network.
The systems can be very basic or very sophisticated. Systems are available with 24hr back up battery packs in case of sudden loss of power (as in the case of a major storm event) back-up pumps and real time monitoring that can be set up to send SMS messages to an authorized person(s) in the event of system shutdown or failure.
DPM are authorized installers for Triton and can assist you in the design, installation and maintenance of such a system.